Theatre and television star Todd McKenney will be donning Frank N Furter's legendary fishnet stockings for the very first time. Joining Todd on stage will be Kristian Lavercombe who astounded audiences in the 2014/5 tour as Riff Raff, musical theatre favourites Amanda Harrison (Wicked, We Will Rock You) as Magenta, Nadia Komazec (Matilda, The Phantom of the Opera) as Columbia and Brendan Irving (The Bodyguard, An Officer and A Gentleman) as Rocky.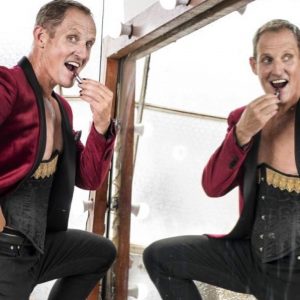 Playing the roles of Brad and Janet, the naïve young couple caught up in a situation they don't understand, are Rob Mallett (Les Misérables, Singin' In The Rain) and Michelle Smitheram (Dream Lover – The Bobby Darin Musical, Georgy Girl). The ensemble cast includes Bianca Baykara (The King & I, Priscilla Queen of the Desert), Ross Chisari (Aladdin, Man of La Mancha), Hollie James (My Fair Lady, Carrie The Musical), Hayley Martin (Anything Goes, Singin' In The Rain), Stephen McDowell (Jesus Christ Superstar, Mary Poppins) and Geoffrey Winter (The Bodyguard, Into The Woods).
The Rocky Horror Show is a true classic and one of theatre's most endearing and outrageously fun shows. It opened at London's Royal Court Theatre on June 19, 1973, quickly developing a cult following, and was adapted into the 1975 film The Rocky Horror Picture Show, which has the longest- running release in film history. This iconic brand holds a unique place in theatre history, a show which has defied the decades and continued to grow in popularity.
The Rocky Horror Show is currently playing in Germany, Switzerland, Austria, Italy, Argentina, Romania and Slovenia, and about to open in Belgium, Tokyo and other cities in Japan. It has recently closed in Korea and Brazil, and in 2018 will open in Israel, Canada, Iceland and the UK. Millions of people all over the world have and continue to see productions of The Rocky Horror Show and sing along to classics like Sweet Transvestite, Dammit Janet, I Can Make You A Man, Touch-a Touch-a Touch Me, Over At The Frankenstein Place and of course, The Time Warp.
Her Majesty's Theatre, Melbourne
Season: Previews from 13 July 2018 (Opening night is July 18)
Performance Times: Tuesday – Saturday 7.30pm, Saturday 2.00pm, Sunday 1.30 & 5.30pm
Price: From $55.00*