Enquire Now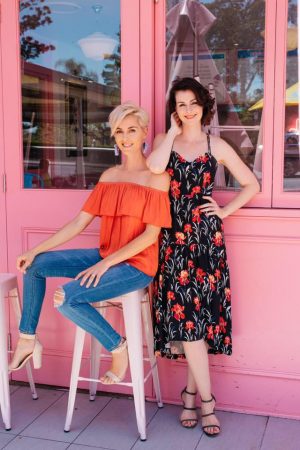 HIT 105 Weekend Breakfast with Those Two Girls 
Real-life friends and popular duo Lise and Sarah (who talk to each other more than they talk to their husbands), wax lyrical together as Brisbane's self-declared best ‪Saturday morning breakfast show. (It was also proven in 2017's first and second radio surveys, but who needs data when you feel it in your heart?) They are also very humble and fill-in for HIT 105's weekday breakfast crew when needed. And when the content directors finally crumble.
About Lise and Sarah 
Together they walk the line between smart, self-deprecating, and irreverent. Listening to Lise and Sarah is like having a cuppa with the girls-next-door who regularly laugh at their own jokes. (They also like calling themselves girls, even though they're firmly in their 30s.)
Outside of radio, Those Two Girls are official ambassadors for Suncorp's national #TeamGirls initiative, which aims to build a national of confident girls in partnership with Netball Australia and Reach Out. They are also creative ambassadors for Brisbane City Council, joining the likes of Keith Urban and Katie Noonan.
Lise and Sarah are known for producing sell-out events (which have been attended by thousands in their hometown), and regularly front crowds as MCs and guest speakers thanks to their broad appeal in Brisbane and regional areas. In recent months, they have worked for clients ranging from retail centres to rugby league (State of Origin), child safety organisations (Queensland Government) to charities; car dealerships to chemists; fashion to finance and more.
In their glory days of youth, Lise and Sarah won all the drama awards at their schools and appeared in lots of uber-glamorous commercials for sexy brands such as Pine-O-Cleen, Dynamo, and Baby Nurofen. Steamy sirens of the small screen. Quite frankly, their move to radio has been a welcome relief.