Enquire Now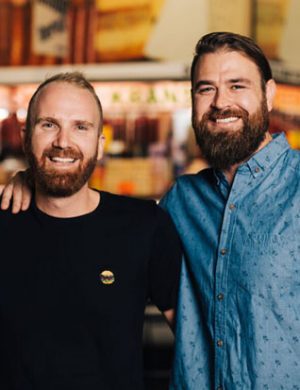 Best mates from Adelaide, Tim & Kyle were semi finalists on the Seven Network's highest rating show, My Kitchen Rules. Branded the 'Pub Mates' who bonded over their shared love of food, beer and beards! Renowned for their relatable, laid back personalities, the boys quickly became fan favourites, with almost 2 million Australians tuning in to watch them cook at their record breaking Instant Restaurant scoring 100 out of 110.
Tim, a former Advertising Account Executive grew up surrounded by food. A chef for a father and an Italian mother meant cooking came as second nature to him. With a shared passion for the media industry, Tim has spent most of his professional career within the radio industry in a variety of roles from on air to integration and everything in between. .
Kyle is a strong believer in doing what makes you happy. He has spent most of his twenties travelling and working across the world living in Greece, Canada, Spain and America. His happy-go-lucky attitude is infectious to all who cross his path.
In the kitchen, the boys believe that if they cook what they love, you'll love it too! With this philosophy top of mind, they've launched their food truck CAROclub, showcasing their favourite meat driven dishes, with influences from North, Central and South America. You'll now find the boys catering events, festivals and private functions across the country.
Follow Tim & Kyle online