Enquire Now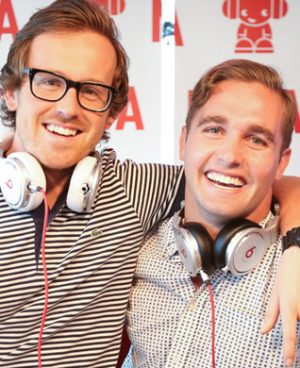 Radio hosts and content creators, Jimmy & Nath are best friends, who love making people laugh while they've been attempting to "get famous".  As content generators they have two podcasts '20 Minutes' & 'Bachie Boys' with another one in development. They also post weekly videos on their Facebook & Instagram accounts and are actively writing & developing scripts.
J&N are dedicated to working with brands and have enjoyed being creative and fronting campaigns and activations for Nova, Ice Break, Student Flights, the AFL, Soda Stream, and the NSW Government. Having worked on multiple award-winning radio shows, it's become a sport to them to exceed commercial client expectations. Their client base work has been nominated for several national and international awards.
As hosts of live events, J&N's chemistry and ability to engage and entertain ensure client messages are delivered in the most effective way.  Their hosting experience includes events for AFL Functions, Rugby Union Australia Events, Nova Red Rooms, Client & Corporate Events, Live Performances, Award Nights, Agency Trivia Events, Charity Functions, and Large & Small-Scale Activations.
Credits include:
J&N have hosted several National & Local Radio Shows including 'The Late Shift (10pm to 1am), 'Pre-Breakfast' (5am to 6am), 'The Late Drive Home' (7pm to 10pm)
'The Late Shift with Jimmy & Nath' saw J&N work with the NSW Government on the 'Don't Trust Your Tired Self' campaign
'The Late Shift with Jimmy & Nath' won the following awards at the Festival of Media APAC: Best Use of Content – GOLD, Best Use of Traditional Media – GOLD, The Creative Use of Media – GOLD
Jimmy & Nath have always rated Number #1 in their timeslot