Enquire Now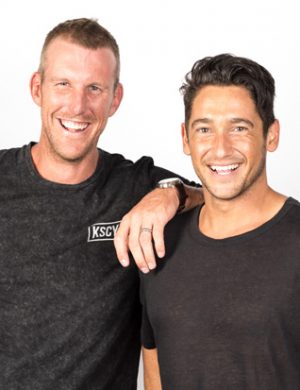 Jay & Foz have been dominating community radio for the past 3 years on 88.3 Southern FM and it all started when they met post a local footy game, as they both reached for the soy sauce for a post-game dim-sims, they decided they needed to discuss the inner workings of canteen management including sauce to sauce ratios on hot dogs.
They share mid to average looks, both are passionate about sport and real world issues and love to have a laugh together and they couldn't be further apart. Jay's philosophy is to live inner city and try not to venture outside the St Kilda/Elwood postcode where as Foz enjoys getting away to Phillip Island or Echuca to go fishing and camping. Jay is 5 star sort of man. Foz likes backyard BBQs, pre-paid SIM cards and his 1995 ford ute. Jay loves eating out every night at fashionable venues, his 200 dollar a month mobile plan and his 50k Land Rover. Jay is hard hitting and Foz compensates with his humour and while Foz can be very full on Jay is more level headed.  Give them a celebrity to interview and Jay will focus on the tough topics while Foz's favourite question is "If an African elephant goes to America is it an African-American elephant?".  As content creators their show is fun, outgoing with a feel for the real world and real world issues with segments including "The List", "Have you got what Jay Doesn't" "Average Joe or Average Pro" and "Fake Sickie".
In their spare time (away from the community radio limelight) Foz enjoys Surfing, Camping, Wakeboarding, and talking to the owners of the Seaford Bakery about how they can improve their vanilla slices and Jay plays in a band, plays footy at a mediocre level and loves socialising as long as he doesn't have to travel further than 5km from his house.
Follow Jay & Foz online