Enquire Now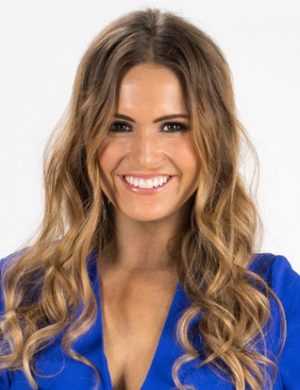 Christie Hayes is an Australian actress best known for her work on Home and Away and is currently the Breakfast Radio Host alongside Marty Haynes, and  Ryan "Crammy" Cram as part of  the "Marty, Christie Crammy" Show on Illawarra's number 1 station, i98fm.
She attended her local Drama School and did her first play as Julie Ceaser, in the comedy "Rinse the blood Of My Toga." When she was 14, she was nominated as Best Actress in the NSW Shakespeare Festival after her portrayal as Helena, in "A Midsummer night's Dream".
In 1997, she won a scholarship to the prestigious McDonald College of Performing Arts, where she studied drama. In 1999, she was cast as a series lead "Maria" in the Grundy production "The Search For Treasure Island." Christie spent 6 months working on the series until it wrapped. She was then cast as series regular "Kirsty Sutherland" on Channel 7's "Home and Away" in 2000. She spent 6 years working on the show, during which time at age 16 she was voted "Youth Ambassador for Australia", and nominated for a TV week Logie award.
In 2006, Christie spent time in Los Angeles studying with Bruce Shapiro and upon returning was the face of the Summer Campaign for "Pepsi Light." Along with this, she spent time as an acting tutor for kids, at The Australian Institute for Performing Arts.
She returned to the theatre in 2007 starring as "Brooke" in the play "Unrequited" and as the Femme Fatale "Alison" in Noir.
Collectively, Christie has worked on over 40 short films, including "Little Australia", "ID" and the award winning short "Burden." She also stars in Hazel's latest film clip, "At a loss."
In 2008, Christie returned to Home and Away reprising her popular role as Kirsty Phillips. In 2010, she co-produced the Short film "My Brother, Andy" an official selection at the St Kilda Film Festival. Other recent TV work includes appearances on MTV, Blue Water High, and ABC's acclaimed series "Devils Dust".
2013 saw Christie reuniting with her Home and Away co-star and critically acclaimed playwright and director, Sam Atwell in his hilarious production of "SET" at NIDA and she has cast for two Feature Films for 2016/2017.
Additionally, Christie is a contributing writer for Mamamia, and her articles have made headlines regularly. She has had several television appearances including The Morning Show and The Daily Edition in the last year regarding her Acting career, Motherhood, Writing for Mamamia and opinion based segments.
She is a proud Mother to Hendrix, 2 and Harley, 1.